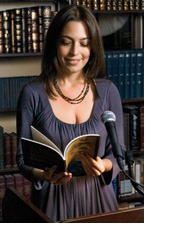 [Scroll down for publicity files and high-resolution images]
Sandra Beasley is the author of I Was the Jukebox, winner of the 2009 Barnard Women Poets Prize, selected by Joy Harjo and published by W. W. Norton. Her debut, Theories of Falling, was selected by Marie Howe as winner of the 2007 New Issues Poetry Prize. In 2011, Crown published her memoir Don't Kill the Birthday Girl: Tales from an Allergic Life, a cultural history of food allergies. She won the 2013 Center for Book Arts Chapbook competition, judged by Harryette Mullen, for "None in the Same Room: Poems from The Traveler's Vade Mecum." Her third full-length collection, Count the Waves, is forthcoming from W. W. Norton & Co in 2015.
Her prose has appeared in venues such as the The New York Times Magazine and the NYTBR, Washington Post Magazine, Wall Street Journal, The Oxford American, and Psychology Today. Her poems have been featured in journals including POETRY, Virginia Quarterly Review, The Gettysburg Review, AGNI, and Black Warrior Review, which published Bitch and Brew: Sestinas in their chapbook series. Her work has been anthologized on Poetry Daily and Verse Daily and appeared in The Book of Scented Things: 100 Contemporary Poems about Perfume, The Incredible Sestina Anthology, The Ecopoetry Anthology, Best American Poetry 2010, New California Writing 2011, the i.e. reader from Narrow House, and the 2005 Best New Poets. In 2012 she was included on Rita Dove's list for Bill Moyers of "Young Poets to Watch."
Awards for her work include a 2015 Literature Fellowship from the National Endowment for the Arts, 2014 and 2010 Individual Artist Fellowships from the DC Commission on the Arts and Humanities, the 2012 DCCAH Larry Neal Writers' Award, the 2009 Friends of Literature Prize from the Poetry Foundation, and a 2008 Maureen Egen Exchange Award from Poets and Writers. In Spring 2013, she served as the writer-in-residence for Lenoir-Rhyne University in Hickory, North Carolina; in Fall 2013, she served as the Distinguished Writer at Cornell College in Mount Vernon, Iowa. In 2011-2012 she served as the Writer-in-Residence for Howard County's Poetry and Literature Society (HoCoPoLitSo), visiting high schools throughout Maryland. Other honors include a 2011 LegalArt Residency in Miami, the 2010 Summer Poet in Residence at the University of Mississippi, a Walter E. Dakin Fellowship to the Sewanee Writers' Conference, and fellowships to the Jentel Artist Residency, Vermont Studio Center, the Millay Colony for the Arts, as well as multiple stays at Virginia Center for Creative Arts.
Beasley lives in Washington D.C., where she earned her MFA at American University. She is an active member of the Arts Club of Washington. She teaches as part of the University of Tampa's low-residency MFA program in creative writing.
See the Wikipedia entry for Sandra Beasley
Downloadable publicity files:
Biographical Note for Sandra Beasley (100 words) [PDF format]
Biographical Note for Sandra Beasley (400 words) [PDF format]
Sandra Beasley's Curriculum Vitae [PDF format]


Color author photo (Please credit Matthew Wordman) [300 dpi JPG]


Grayscale author photo (Please credit Matthew Worden) [300 dpi JPG]


I Was the Jukebox cover art (W. W. Norton) [300 dpi JPG]


Don't Kill the Birthday girl cover art (Crown) [300 dpi JPG]